I've only recently got into the world of fine timepiece and have been reading up a lot to try educate myself. 4 months ago, If you ask me what is a balance spring or a balance wheel, I'd have given you a blank look...( not that I'm an expert now anyway, just a little better informed). As much as I am influenced by the aesthetic and appearance of a dial of watch and its functionality, I am intrigued with the whole business of mechanisms, innovations of mechanical watches over the years and the historical development of certain calibres that survived to this day.
Yes, I have all the excitement of a newbie with the hope and aspiration to one day leave my day job and become a watchmaker in a quiet and sleepy town.
Imagine my excitement during the time of discovering timepieces to find out that a team from Schaffhausen is coming over to Abu Dhabi for the boutique launch and to conduct a watch-making class. Ever since, I have placed my name on the list to make the necessary arrangements to be part of this event. I've been anticipating eagerly to get into the construction of a watch calibre.
As we drew close to the day of watch-making, the official boutique opening ceremony on the day before built up the excitement and gave us the opportunity to meet with few key staffs of IWC and some notable figures coming from Schaffhausen.
Maxime Ferté, IWC brand director welcomed us with a big smile and friendly gestures. Maxime is a true gentleman and shared with us his experience in Asia and how the company positioned itself in the region. Being positioned in Hong Kong for a number of years, he relates well to our culture and home nearby there. He then introduced us to Hannes Pantli and Christian Bresser, and I must say to be grazed by Mr Hannes and Christian is truly a memorable experience for us. Meeting people whom you only read in articles gave that extra dimension to complete the picture you painted in you mind of them. My wife and I had a fantastic evening and enjoyed pleasant conversations with these fine gentlemen. In my mind, I have hundreds of questions about horology and timepiece, but we find ourselves talking more about our lives, experiences and other aspects surrounding our works and places we have been. I was glad that we spent those precious moments to know more about them than just talking about watches. These are the little things in life that enriches one soul.
My wife and I arrived at the Chairman Suite Conference room where the watch-making class. Our journey to the venue was joined by Christian and Jean Phillippe, IWC Retail Director. We meet with Mr Hannes again in the watch-making room and soon joined by fellow forum member here, OB. The number of participants had to be small (no more than 10). This allows full and personal attention to each of us.
Mr Hannes has such a positive aura which is hard to explain. A man of such experience and influence just exudes great presence.
The view and the wonderful clear weather of Abu Dhabi was a perfect setting for what we are about to do. At this point, it was hard to contain my excitement.
I reckoned we didn't look too bad in the lab coat. If this doesn't set one in the mood, I don't know what will. All ready for action…
Do not let this picture of calm fool you. Jumping screws and groans of frustration were frequent occurrences here.
Here you have it, Calibre 98200 ready to be taken apart…
The ratchet wheel was the first to be removed…
… followed by the winding wheel + bridge…
The centre train bridge was next, along with all the gear-train…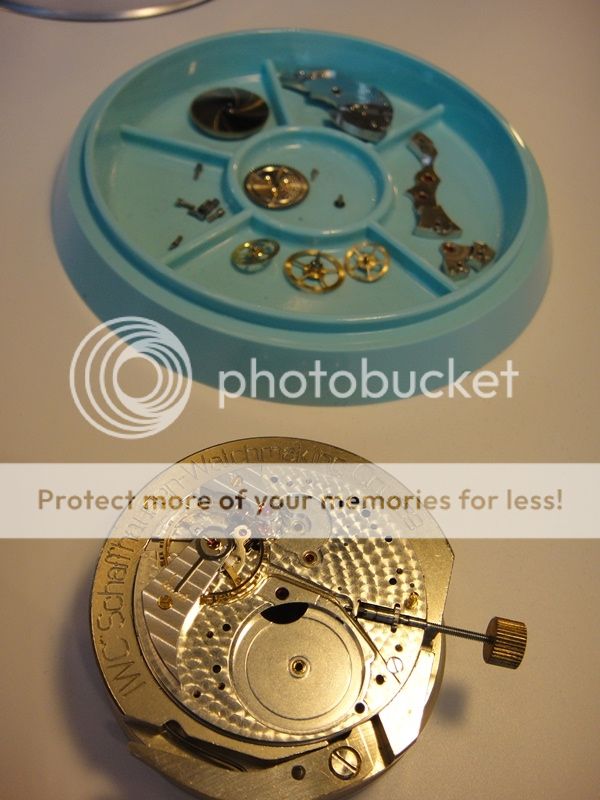 With the last bridge plate remove, the disassembly was complete. We are not qualify to touch the balance wheel and its related components.
On the reassembly, the watch gear train goes back into the jewelled positions. This is rather tricky to ensure the all the gears are in contact and positioned properly.
The centre train bridge is then placed to secure all the gear train positions…
… winding wheel and bridge is back in place….
… finally the ratchet wheel… at this point, you can begin to see the balance when starts to gather some inertia. My wife and I were just ecstatic to see our timepiece being restored to life!
Christian Bresser, Deputy of the Department of Complications, conducted the watchmaking class. He was both entertaining and informative in giving us interesting background and sharing with us his story of previous classes. Bear in mind that we had help in performing the above tasks. A professional watchmaker can dissemble and reassemble a simple movement above in about 15 minutes. It took us about 2 hours including instruction to perform the same task. Watch-making is not about speed, it is about patience and passion. Christian reminded us the respect we need to give to such a well crafted instrument to ensure its continuous service for years to come. This includes adequate maintenance and methods of handling. After personally gone through the exercise above, one can immediately appreciate the fine and delicate art of watch-making and the respect it deserves. No reading or visual reference can give the equal comprehension of this fine art as this guided watch-making class can.
The session was followed by lunch with a rather experimental menu, with a strong eastern flavour. Simply delightful.
After lunch and a few more conversation we expressed our interest to perhaps one day to pay a visit to Schaffhausen. Boutiques apparently help customers in securing appointments to visit the factory. This is best done early (preferably 6 months ahead) to ensure a more fruitful experience. We part ways with the hope that one day to meet with these familiar faces in the near future and relate to the recent wonderful events.
… and just so you know, we are now 'qualified' :P
I think the IWC team here has successfully carried out all the events. It was well organized and executed, promoted the brand and the product in the best light. We have not only been given the best experience to get into the world of watchmaking but also met some great people, made so many new friends, and be part of a small circle of enthusiast alike. We have gone beyond the appreciation of the materiality of the product and be part of the spirit of the tradition of IWC. What more could one ask for? Fantastic job IWC team and thank you!